Paquetes Básicos
Servidores con un solo procesador
Starter
Licenciamiento VMWare incluye:
VMware Server Virtualization 6.7
VMware Licensed Server, all virtual machines
Bare Metal:
Datacenter: Dallas 10
Server: Single Intel Xeon E3-1270 v3 (4 cores, 3.50 Ghz)
RAM: 16 GB RAM
Disk Controller: RAID
First Hard Drive: 1 TB SATA
Second Hard Drive: 1 TB SATA
Public Bandwidth: 20000 GB
Remote Management: Reboot / KVM over IP
Primary IP Addresses: 1 IP Address
Monitoring: Host Ping
VPN Management - Private Network: Unlimited SSL VPN Users
Vulnerability Assessments & Management: Nessus Vulnerability Assessment & Reporting
Soporte Avanzado (Opcional): $230 usd/mes
Professional
Licenciamiento VMWare incluye:
VMware Server Virtualization 6.7
VMware Licensed Server, all virtual machines
Bare Metal:
Datacenter: Dallas 10
Server: Single Intel Xeon E3-1270 v6 (4 cores, 3.80 Ghz)
RAM: 32 GB RAM
Disk Controller: RAID
First Hard Drive: 4 TB SATA
Second Hard Drive: 4 TB SATA
Public Bandwidth: 20000 GB
Remote Management: Reboot / KVM over IP
Primary IP Addresses: 1 IP Address
Monitoring: Host Ping
VPN Management - Private Network: Unlimited SSL VPN Users
Vulnerability Assessments & Management: Nessus Vulnerability Assessment & Reporting
Soporte Avanzado (Opcional): $230 usd/mes
Licenciamiento VMWare incluye:
VMware Server Virtualization 6.7
VMware Licensed Server, all virtual machines
Bare Metal:
Datacenter: Dallas 10
Server: Single Intel Xeon E3-1270 v3 (4 cores, 3.50 Ghz)
RAM: 32 GB RAM
Disk Controller: RAID
First Hard Drive: 1.2 TB SSD
Second Hard Drive: 1.2 TB SSD
Public Bandwidth: 20000 GB
Remote Management: Reboot / KVM over IP
Primary IP Addresses: 1 IP Address
Monitoring: Host Ping
VPN Management - Private Network: Unlimited SSL VPN Users
Vulnerability Assessments & Management: Nessus Vulnerability Assessment & Reporting
Soporte Avanzado (Opcional): $230 usd/mes
Enterprise
Licenciamiento VMWare incluye:
VMware Server Virtualization 6.7
VMware Licensed Server, all virtual machines
Bare Metal:
Datacenter: Dallas 10
Server: Single Intel Xeon E3-1270 v6 (4 cores, 3.80 Ghz)
RAM: 32 GB RAM
Disk Controller: RAID
First Hard Drive: 3.8 TB SSD
Second Hard Drive: 3.8 TB SSD
Public Bandwidth: 20000 GB
Remote Management: Reboot / KVM over IP
Primary IP Addresses: 1 IP Address
Monitoring: Host Ping
VPN Management - Private Network: Unlimited SSL VPN Users
Vulnerability Assessments & Management: Nessus Vulnerability Assessment & Reporting
Soporte Avanzado (Opcional): $230 usd/mes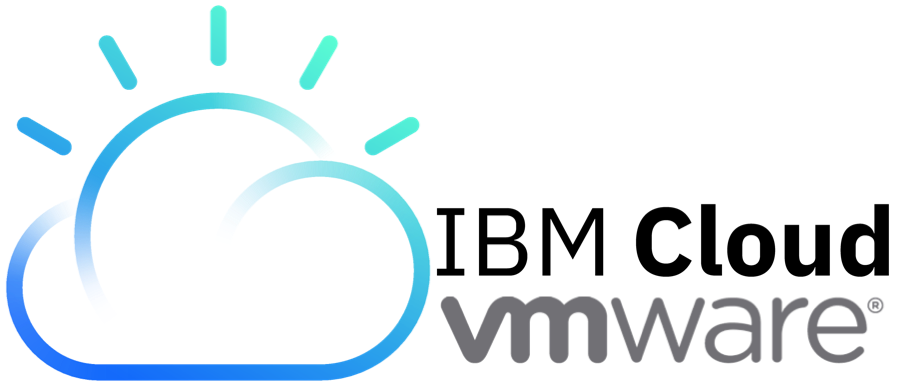 Ventajas de VMware on IBM Cloud
Provee una extensión de las cargas de trabajo de VMware on-premise del cliente en un flexible modelo de nube.
Acceso Administrativo Completo e Hypervisor
Acceso administrativo completo a PCS, NSX, vCentre y otros servicios.
Múltiples Configuraciones
Dos opciones SDDC disponibles: VMware vCenter Server (VCS) y VMware Cloud Foundation(VCF). Así como diferentes configuraciones de hardware.
Alcance Geográfico
IBM Cloud cuenta con mas de 30 centros de datos alrededor del mundo. Una vez que un cliente ha desplegado un ambiente en IBM Cloud, puede replicar en cualquier data center de la red de manera fácil y segura.
Trae tu propio licenciamiento (BYOL)
Aprovechamiento en la nube del licenciamiento existente de VMware. Soporta BYOL para vCenter Server, vSphere, NSX y vSAN.
Múltiples Opciones de Almacenamiento
Cuenta con una amplia gama de tipos de almacenamiento para el despliegue adecuado de las cargas de trabajo y aplicaciones.
Experiencia VMware
IBM Cloud fue el primero en ofrecer en el mercado VMware Cloud Foundation en la nube. IBM Cloud recibió recientemente el premio "VMware 2017 Partner of the Year Award".
Soluciones de Almacenamiento y Recuperación de Datos
Cuenta con tres heramientas de resilencia disponibles: Spectrum Protect Plus, Veeam y Zerto.
Gestión por Parte del Cliente
Permite a los clientes realizar los mismos procesos de adiministración que utilizan en su infraestructura on-premise. Esto significa que los clientes no están forzados a instalar parches y actualizaciones.
Soporte
Disponibles tres niveles de soporte: Básico, Avanzado y Premium con gestor técnico de cuenta asignado.